WordPress is well known for being SEO friendly "out of the box." Even so, with thousands of WordPress SEO plugins to choose from, a few additions to your blog may be all that you need, in order to reach the next level. From WordPress SEO by Toast to XML sitemap, know that there's a WordPress SEO plugin that can help get you there.
I'm going to discuss 10 WordPress plugins that can help your site to rank on google in 2020. These plugins won't guarantee high search engine rankings, but they'll definitely improve your chances of SEO success in 2020.
WordPress SEO by Yoast is the most popular SEO plugin on WordPress for a reason. This can be seen in the approximately 27,000 reviews, with an overall rating of 4 out of 5 stars.
If you want to improve your WordPress SEO, both by creating better content and by optimizing your site, this plugin may be the best place to start.
Top features in Yoast SEO Plugin
You can Generate XML Sitemap
Automatically Submits XML Sitemaps to Google/Other Search Engines
It allows you To Create Custom Meta Header/Description
Check Focus or targeted Keywords
Redirects Easily
Add Breadcrumbs
It allows To Change Permalinks
It helps You Bulk Edit Meta Titles and Meta Descriptions
Helps You 'Hide' Specific Posts/Pages From Search Engines
Yoast SEO can quickly scan any page for images, ensuring that each one has an alt tag that matches the primary keyword for the post. Along with this, it checks your content for length and confirms whether or not your meta description is up to par.
When you look at this, it's easy to see what you've done right and if you've done anything wrong. In the event that a green check mark is absent from a particular line, you can address the issue before publishing – for example, heading back to your meta description to make a tweak or two.
All in One SEO Pack release in 2007, this WordPress plugin has been providing webmasters with an easy to use solution to many SEO related challenges.
The biggest benefit is the fact that you don't need any experience to get started. If you can read and you can input the right data in the right fields, then you can use this plugin.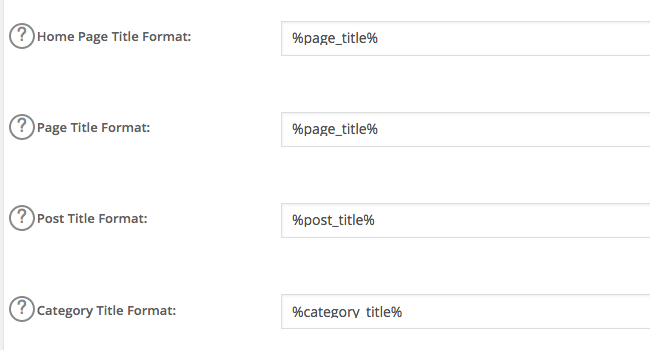 Top features in All in One SEO Pack Plugin
XML Sitemap support – submit your sitemap to Google and Bing and improve your SEO
Image XML Sitemap submitted to Google and Bing to improve your Image SEO
RSS Sitemap
Google AMP support (Accelerated Mobile Pages)
Google Analytics support
Schema.org Markup
Support for SEO on Custom Post Types
Advanced Canonical URLs
Redirect attachment pages to parent post
Automatically notifies search engines like Google and Bing about changes to your site
Built-in API so other plugins/themes can access and extend functionality
ONLY free plugin to provide SEO Integration for e-Commerce sites, including WooCommerce
Nonce Security built into All in One SEO Pack
Automatically optimizes your titles for Google and other search engines
Generates META tags automatically
Avoids the typical duplicate content found on WordPress blogs
For beginners, you don't even have to look at the options, it works out-of-the-box. Just install.
For advanced users, you can fine-tune everything to optimize your SEO
You can override any title and set any META description and any META keywords you want.
Compatibility with many other plugins
Translated into 57 languages
PHP 7 100% Compatible
Use this plugin to greatly improve SEO to create special XML sitemaps which will help search engines like Google, Bing, Yahoo and Ask.com to better index your site.
With such a sitemap, it's much easier for the crawlers to see the complete structure of your site and retrieve it more efficiently. The plugin supports all kinds of WordPress generated pages as well as custom URLs. Additionally it notifies all major search engines every time you create a post about the new content.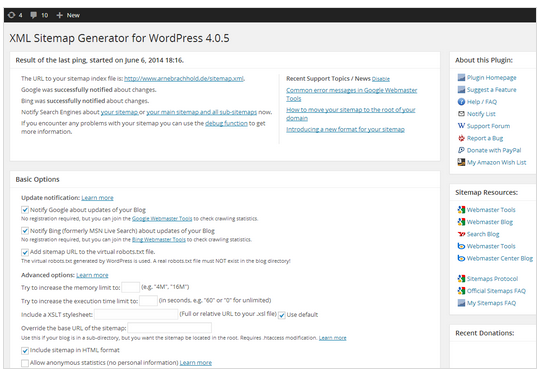 What are you doing to ensure that your site's content gets indexed?
If you don't have an answer to this question, you're missing the boat. Sure, the search engines may find your content without being pointed in the right direction, but you don't have to sit back and hope for the best.
With the Google XML Sitemaps plugin, a sitemap will be generated automatically. Subsequently, its easier for search engines to index your blog.
Once you create a sitemap, it'll look something like this: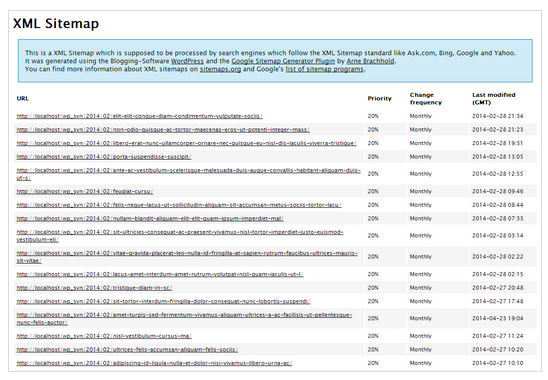 What Next?
submit the sitemap URL to Google via Google Search Console.
Is your site being penalized because of old broken links? Broken Link Checker scans every link on your website and tells you if the link has changed, is broken or no longer exists so you can fix it.
Broken links cause users to leave your site faster, slow down search bots, lead to lowering where you show on search pages and can hurt your Google ranking.
Top features in Broken Link Checker Plugin
Monitor – Set automated scans for your posts, pages, comments, blogroll and custom fields.
Detect – Find links that don't work, missing images and redirects.
Report – Get notified when links are broken in the built-in Dashboard widget and through email.
Highlight – Configure posts to display broken links with a custom style.
Prevention – Stop search engines from following broken links.
Filter – search and filter links by URL, anchor text and more.
Quick Edit – Save time by editing links directly from the settings page, no need to manually visit each post.
Schedule – Set how often links are scanned and limit resource usage with highly customizable settings.
The Broken Link Checker plugin is both simple to use and powerful. With more than 700,000+ active installs and a high rating, it's worth checking out.
It's made of multiple widgets that show specific data. Each widget tells you about a specific area of your traffic. An SEO dashboard might have keywords, search engines used, etc.
Top features in Google Analytics Plugin
General Analytics

Visitor timeline (visits to your website)
Top countries viewing website
Top cities viewing website
Top areas viewing website (metro view)
Top view pages
Highest engaged content
Top keywords (non-branded)
Social networks sending the most traffic
Referred websites
Referred websites excluding major sites like Google and Facebook

SEO Dashboard

Total visits from SEO
Non-branded visits from SEO (change filter to your brand name with variations)
Top (known and unbranded) keywords (change filters again)
Top viewed pages from SEO
Highest engaged content
Top countries finding website through SEO
Top countries finding website through SEO (world view)
Top US cities finding website through SEO (change area if needed)
Traffic sources
Search engines used
Top Chicago keywords (change to your city if you're doing localized SEO)

Social Media Dashboard

Traffic from major social networks
Most socially shared content
Top socially referred pages (what pages get traffic from social media)
Location of social media visitors

Technical Analytics

Average page load time
Average bounce rate
Average pages viewed per visitor
Average time on site
Slowest loading pages
Returning visitors
Mobile devices used
Operating systems used
Browser bounce rate

Mobile Analytics

% mobile visitors
Mobile unique visitors (timeline)
Average time on site (mobile)
Bounce rate by mobile device
Mobile devices used to view site
Top mobile content
Top Ipad content
Top Iphone content
When was the last time that you thought about the speed of your WordPress website? Do you understand that this can impact your search engine rankings?
Search engines like Google, measure and factor in the speed of web sites in their ranking algorithm. When they recommend a site they want to make sure users find what they're looking for quickly. So in effect you and Google should have the same objective.
Speed is among the most significant success factors web sites face. In fact, your site's speed directly affects your income (revenue) — it's a fact. Some high traffic sites conducted research and uncovered the following:
Google.com: +500 ms (speed decrease) -> -20% traffic loss
Yahoo.com: +400 ms (speed decrease) -> -5-9% full-page traffic loss (visitor left before the page finished loading)
Amazon.com: +100 ms (speed decrease) -> -1% sales loss
A thousandth of a second is not a long time, yet the impact is quite significant. Even if you're not a large company (or just hope to become one), a loss is still a loss. However, there is a solution to this problem.
W3 Total Cache, you can improve site speed, as well as the overall user experience. With a long list of users, including big names, such as AT&T and Mashable, you know that you're in good company if you install this plugin.
WordPress itself is a very secure platform. However, it helps to add some extra security and firewall to your site by using a security plugin that enforces a lot of good security practices.
The All In One WordPress Security plugin will take your website security to a whole new level.
List of the security and firewall features in All in one WP Security & Firewall plugin
User Accounts Security
User Login Security
User Registration Security
Database Security
File System Security
htaccess and wp-config.php File Backup and Restore
Blacklist Functionality
Firewall Functionality
Brute force login attack prevention
Security Scanner
Comment SPAM Security
Front-end Text Copy Protection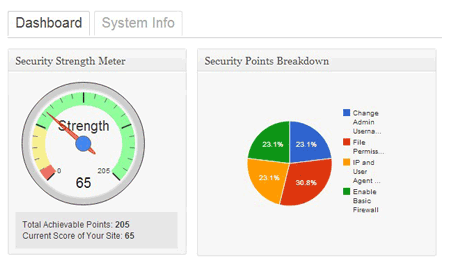 Using the All In One WP Security & Firewall plugin will give you greater peace of mind about the security of your WordPress site.
Is your WordPress website mobile friendly?
This may not have been a big deal in the past. But, in today's day and age, it's a must. There are a couple of reasons for this:
More people than ever are browsing the internet via a mobile device, such as a smartphone or tablet.
The lack of a mobile friendly website will have a negative impact on your search engine rankings.
There is a lot to know about Google's mobile friendly update, including the fact that your website should be mobile friendly.
If you don't have the time, money and resources to pay a developer or to upgrade your site on your own, then you can turn to the WPtouch Mobile Plugin.
This plugin "automatically adds a simple and elegant mobile theme for mobile visitors to your WordPress website."
Yet Another Related Posts Plugin (YARPP) displays pages, posts, and custom post types related to the current entry, introducing your readers to other relevant content on your site.
YARPP Basic Features
Thumbnail or list view of related content.
Related posts, pages, and custom post types.
Templating: The YARPP templating system gives you advanced control of how your results are displayed.
An advanced and versatile algorithm: Using a customizable algorithm considering post titles, content, tags, categories, and custom taxonomies, YARPP finds related content from across your site.
Related posts in feeds: Display related posts in RSS feeds with custom display options.
The SEO Optimized Images plugin lets you dynamically insert SEO-Friendly "alt" and "title" attributes to your images. Simply activate the plugin, provide the pattern, and you are ready to go.
The plugin dynamically replaces the "alt" and "title" tags. It does not make any changes to the database. This means that if you deactivate the plugin, everything will return to the original settings.
With the plugin, you can insert an image name, a post title and a post category in the "title" and "alt" attributes of the image.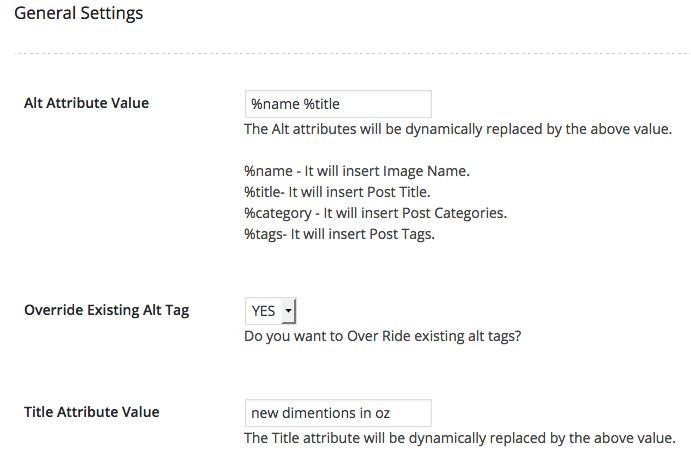 Give SEO Optimized Images a try: we are sure you will like it!
If you found these plugins useful, please share them on your favorite social network. I would appreciate that. Comment which one is your favorite.

Cheers!